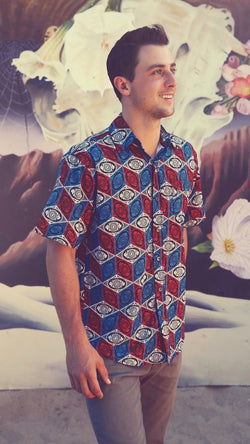 Jammin Warrior Collective
Americana Grateful Dead Dress Shirt
This lightweight Grateful Dead inspired, Button Down Dress Shirt is perfect for any show, festival, golf course, beach & beyond.  
Design Features:
Original Artwork Entitled: AMERICANA x The Grateful Dead
Lightweight material perfect for any occasion does not wrinkle
Moisture Wick drys easily & does not show sweat 
Easy to wash in any sink, drys quickly ready to go again
Button-Down shirt with left chest pocket
The color will not fade
Fabric is Black Light activated
Item is officially licensed with The Grateful Dead 
Fabric Features:  American Made Fabric printed in our studio in Sonoma County, CA.  High-performance moisture wick polyester spandex breathes easily. 90% Polyester / 10% Spandex.
All sizes, dimensions and fabric descriptions are listed at the bottom of every individual product description.