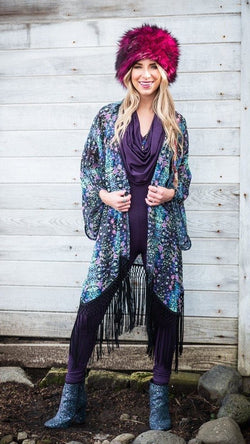 Jammin Warrior Collective
Cyan Liquid Light Kimono
Kimono Love, 
the perfect robe for all your adventures.  
Original Artwork Entitled: Cyan Liquid Light Print by The Jammin Warrior Collective & The Brotherhood of Light
Festival Kimono, Chillin' Kimono, Sunday Kimono or All of the Above
Adorned with 10 inch fringe knotted black fringe
Perfect over accessory for beach or festival
Boho Chic
Bright + Light in weight and print
Sewn in San Francisco, CA, USA                                                                                  
Fabric Features: Original Artwork Print.  American Made Fabric printed in our studio in Novato, CA.   Polyester fabric, Polyester Fringe.
Fit: One Size
At Umba Love, we strive for 100% satisfaction guaranteed. If you are unhappy for any reason, please feel free to return unworn or unaltered item(s) for a full refund minus initial shipping, free RETURN SHIPPING - no questions asked.
All sizes, dimensions and fabric descriptions are listed at the bottom of every individual product description.