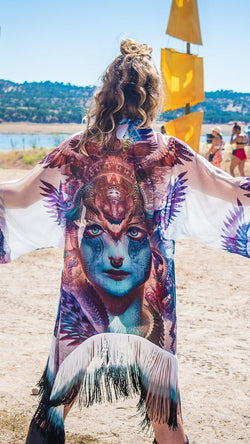 Jammin Warrior Collective
Android Jones Kimono - Dharma Dragon
A Collaboration between Android Jones & Warrior Within Designs
Artwork by World Renowned Visionary Artist - ANDROID JONES
Artwork Entitled: DHARMA DRAGON for Boom Festival
Adorned with 15 inch hombre fringe
Original artwork printed on fabric in Marin County, CA by Jammin On Inc
Hand cut & sewn in San Francisco, CA, USA
Please allow 7 days for shipping. These are hand cut and made one at a time. 
Fabric Features: Print Sheer Knit Dy-Sublimination, Hombre Fringe
Fit: One Size
Quote from the Artist: Android Jones
"I have seen things in this life that I am incapable of translating into words. In my practice, I have visited realms where the imagination ends, and the terrifying beauty of infinity unfolds over and over again.
If I could distill into words exactly what motivates me to create the art that I make than it would not be worth making it. Instead, I have chosen the Pen.
Honestly, I don't know why I make this art, or what compels me to keep creating it; it's a mystery I intend to pursue for the rest of my life, and each image brings me closer to the Ultimate Truth." -Android Jones, 2013
At Umba Love, we strive for 100% satisfaction guaranteed. If you are unhappy for any reason, please feel free to return unworn or unaltered item(s) for a full refund minus initial shipping, free RETURN SHIPPING - no questions asked.
All sizes, dimensions and fabric descriptions are listed at the bottom of every individual product description.