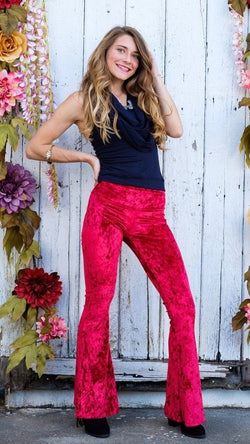 Warrior Within
Fire Engine Red Velvet Slim Bells
The Slim Bell Pants are the go to every day pant aka "the yoga pants." These puppies should be in constant rotation in your closet.  We have taken our Flow Pant and toned it down on the flare and turned it up on the fit from hip to knee.
Design Features:
Wider waist band hits just under belly button
Low rise center seam
Hugs hips and legs to knee
Slight flare at knee
Great for every day, dance, movement, hooping and yoga
Made in San Francisco, CA, USA
Fabric Features:   Fire Engine Red soft crush velvet. 90% Poly Blend, 10% Spandex
Fit:  True to size.
All sizes, dimensions and fabric descriptions are listed at the bottom of every individual product description.