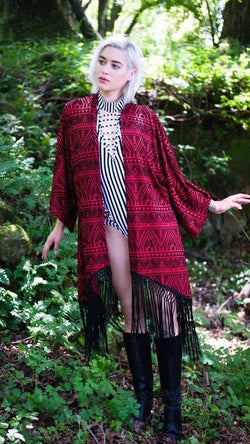 Warrior Within
Gothic Heart Kimono
Kimono Love, 
the perfect robe for all your adventures.  
Festival Kimono, Chillin Kimono, Sunday Kimono or All of the Above
Adorned with 10-inch black knotted fringe
Perfect over accessory for beach or festival
Boho Chic
Bright + Light in weight and print
Sewn in San Francisco, CA, USA
Fabric Features: Red fabric with Black Embossed print.  Rayon w/ Polyester Fringe.
Fit: One Size
All sizes, dimensions and fabric descriptions are listed at the bottom of every individual product description.