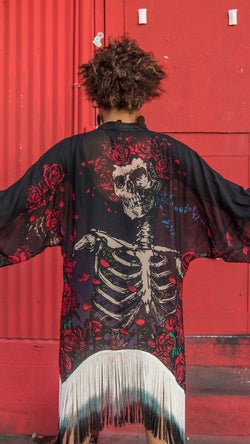 Jammin Warrior Collective
Grateful Dead Kimono - Bertha
In collaboration with the Grateful Dead, Jammin Warrior Collective brings you the perfect Kimono
for all your adventures.  This deep purple kimono was inspired by a Grateful Dead album cover.
Perfect over accessory for beach or festival
Adorned with 10 inch hombre white to black fringe
Bright + Light in weight and print
Fabric Features: American made fabric, printed in our studio in Novato, CA. 100% Polyester fabric, Hombre White/Black 100% Polyester Fringe.
Fit: One Size
All sizes, dimensions and fabric descriptions are listed at the bottom of every individual product description.