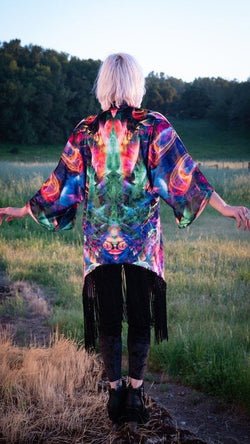 Jammin Warrior Collective
Johnathan Singer Velvet Kimono - Gangelic
A Collaboration between Johnathan Singer & Warrior Within Designs
Artwork by Multidimensional Video Mixologist & Artist: Johnathan Singer
Artwork Entitled: GANGELIC for Tippers Full Moon Gathering 2019
Adorned with 10-inch high-quality black knotted fringe
Original artwork printed on crush velvet fabric in California
Hand cut & sewn in San Francisco, CA, USA 
These pieces are PRE-ORDER only.  Kimonos will ship on or before September 25th, 2019. 
Fabric Features: Soft crush velvet. Black knotted fringe.
Fit: One Size
All sizes, dimensions and fabric descriptions are listed at the bottom of every individual product description.