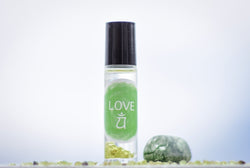 Seven Sacred Solutions
Love Blend
Heart Chakra 
Love Crystal Oil Blend 10 ML metal ball roller bottle 
Sanskirt Name: Anahata
Element: Air
Vibration: YAM
Key: F
Oils: fractionated coconut oil, Douglas fir, ylang-ylang, vetiver, rosemary, eucalyptus, peridot crystals.
(All oils are certified pure therapeutic grade, safe for consumption and skin application and tested for over 250 pesticides)
Affirmation: I love with deep compassion and understanding. I love all things with the deepest depths of my heart. I am open to listen and live from my heart space.
Placement on Gaia: Glastonbury and Shaftesbury in England.
Love and care is put into each product that is made.  I cleanse and charge all the crystals under moon's and sun's of high energy and then play chakra specific music for them as I make them.  I am surrounded by children and animals in the process, so there is extra love in each bottle.  Once you have finished the oils, you can pop the top off and keep the little crystal pieces that haven't dissolved into the oils.
Each oil bottle comes with a card with information on that specific chakra and how to better assist in the healing of that space within you.  
Orders come packaged in a cotton drawstring bag.  You can keep your oils safely in this packaging for safe travels to and from all destinations.  
Why the metal roller ball? It is not safe for essential oils to be in constant contact with plastics as they will begin to dissolve them.  Offering you the metal ball keeps the oils pure and your vessel as well!
(All crystals are charged under specific sun's and moons and then charged with music and vibrations that assist in the healing of the chakra they are paired with. I will hand write on your info card on each product which specific moon or sun your crystals were charged under!)
Proudly blended and bottled in Boulder, CO.
All sizes, dimensions and fabric descriptions are listed at the bottom of every individual product description.