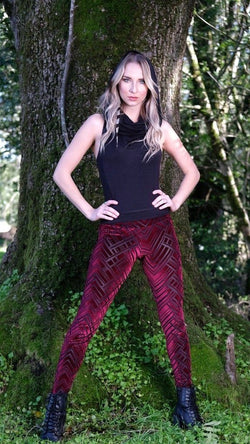 Warrior Within
Maroon Chevron Leggings
Design Features:
Waistband hits comfortably just under belly button
Perfect hugs hips
High rise to ensure perfect fit- yoga ready
Print hand matched to ensure radical placement on body
Moisture Wik Fabric for athletic high-performance activity
Made in San Francisco, CA, USA

Fabric Features:  Soft, Textured Stretch Velvet.  90% Poly Blend with 10% spandex.   
Fit:  True to fit. 
All sizes, dimensions and fabric descriptions are listed at the bottom of every individual product description.