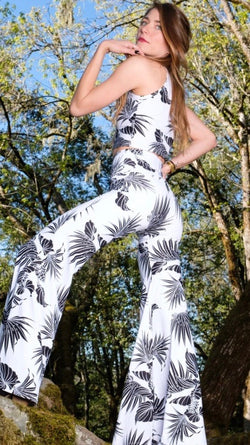 Warrior Within
Ravens Garden Big Bells
Our Big Bells are your go-to stylish everyday pant. Dress these flattering pants up or down- truly perfect for almost any occasion.
Design Features:
High waistband hits comfortably at your true waist
Waistband can be rolled down to expose belly
Perfectly hugs hips
Pant leg flares into large bells
Fantastic garment to dress up and down.
Incredibly vibrant print. 
Made in San Francisco, CA, USA
Matching Crop Tank
Fabric Features: Soft earth tone feather print with baby blue accent. Printed in Los Angeles, CA.  90% Polyester, 10% Spandex
 Fit:  True to size.
Inseam: Runs Long.  See Chart Below: 
XS-31.5

S- 33 

M-34.5 

 

L-35 

 XL-35.5 
**Measurement in Inches
Model is 5 ft 6 inches. She is wearing a  Smal. 
All sizes, dimensions and fabric descriptions are listed at the bottom of every individual product description.