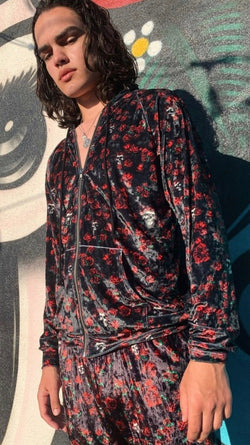 Jammin Warrior Collective
Skull and Rose Track Suit Hoodie x Grateful Dead
This lightweight Velvet Hoodie is perfect for almost any activity.  Dance with The Dead
Design Features:
Original Artwork Entitled: SKULL & ROSES x The Grateful Dead
Lightweight soft velvet material perfect for any occasion 
Fabric does not wrinkle, breathable, good for movement
High-quality YKK Zipper
The color will not fade
Fabric is Black Light activated
Item is officially licensed with The Grateful Dead
Fabric Features:  Soft crush velvet printed in our studio in Sonoma County, CA.  High-performance moisture wick polyester spandex breathes easily. 90% Polyester, 10% Spandex 
All sizes, dimensions and fabric descriptions are listed at the bottom of every individual product description.