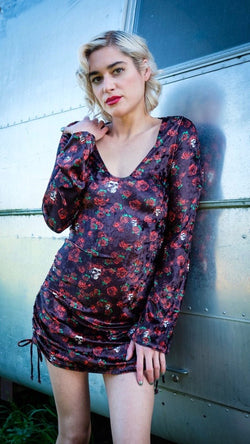 Jammin Warrior Collective
Skull and Roses Velvet Sleeved Echo Cinch Dress - Grateful Dead
 In collaboration with the Grateful Dead, the Jammin Warrior Collective brings you the perfect Grateful Dead Skulls n Roses Velvet Dress. They are the go-to psychedelic pants to spice up any outfit for festivals or concerts!  The artwork is officially licensed. 
The Echo Cinch Dress 
Design Features:
Sleek & sophisticated scoop neck
Full Sleeves with slight bell
Adjustable length
Wear down as dress or cinched up high as a shirt
Fantastic paired with leggings 
Garment cut & sewn in San Francisco, CA, USA
Fabric Features:  Super soft crush velvet.  Imported Fabric printed in our studio in Sonoma County, CA. 90% Polyester / 10% Spandex.  

Fit:  True to size.
All sizes, dimensions and fabric descriptions are listed at the bottom of every individual product description.